The One Email Marketing Strategy to Rule Them All
"Fanghorn Forest! What madness drove them there?"

Gimli from Lord of the Rings
Running a restaurant or any retail establishment is very much a great adventure. Wherever your journey leads you, there are weapons you can use to boost revenue, engage with customers and grow your business. Mailchimp is one of them, and its robust free entry tier will turn any middle earthling into a marketing genius.
But a Rohan Rider without a horse cannot go very far, and similarly, Mailchimp without emails and other customer data will simply not perform. The problem is even more severe if you have marketing oversight for a chain of restaurants. Wielding the power of email marketing is available for those businesses that have an effective way of gathering emails, and Vivaspot is the solution.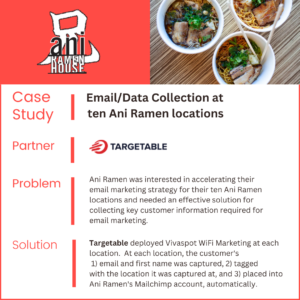 "Vivaspot accelerated our email marketing strategy and its seamless integration with Mailchimp reduced costs and increased revenue and foot traffic at each of our restaurant locations"

Ani Ramen, Director of Marketing
VivaSpot integrates with your WiFi, Point of Sale, and other services that collect customer information (such as email, mobile phone numbers, names, birthdates, etc.). It verifies, tags and places the information in your CRM tool such as Mailchimp. The end result is a more powerful email marketing strategy that keeps you on a path toward the light and away from Mt. Doom.
Get started today with a 30-day Free Trial that includes a powerful Cisco WiFi hotspot. Sign up at http://www.vivaspot.com/contact or call 1-855-383-4662.